The short answer is, no. As long as the service provider has proof that the services or goods were delivered, you are obligated to pay the invoice, whether late or on time. The official Invoice rule in the UK is that an invoice can be chased up to six years in the past.
This is a rule under the Limitation Act of 1980. It outlines that the creditor has a right to pursue the invoice from you until it is paid.
What about really old invoices? Can I refuse to pay those?
No. Not unless the 6-year statutory limitation term has expired, and you have not made any payments in that time.
You can refuse to pay the invoice on the grounds that the services or goods provided were unsatisfactory or incomplete. However, you cannot refuse to pay an invoice because of its age. If you do not pay the invoice for any other reason, you may face legal consequences.
When can I refuse to pay an invoice?
The only time you can be refuse to pay an invoice is when the service you received or goods you have been sent are unsatisfactory.
It is also proper to try and resolve this problem amicably with the supplier. Start by setting up a meeting, most ideally a face-to-face meeting, and explain why you are dissatisfied with the work or goods.
You may end up reaching an agreement where the contractor does what you need to meet your standards.
If you happen not to reach an agreement and still do not wish to pay the invoice, you may have to prepare yourself for a legal battle with the client.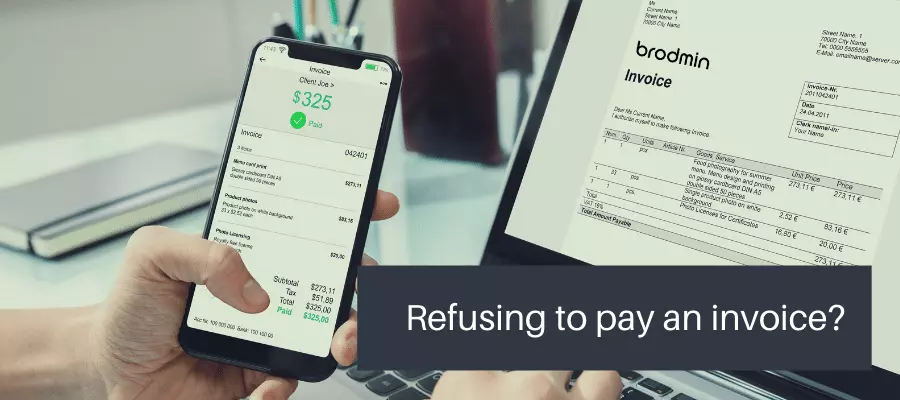 What is the best way to refuse an invoice?
The best way to reject an invoice is through a letter of rejection that must include the following information;
The rejected invoice date and number.
An explanation as to why the invoice was being rejected. There must be a valid reason.
A request for amendments.
Here's a sample;
Dear (Name of client)
I am writing about your invoice number (Put the invoice number here) that I received (put the Invoice date here).
I would like to let you know that this invoice will not be processed as it is being rejected due to (put the reason for rejection here)
I am kindly requesting you to rectify the mistakes I have outlined, and if possible, revert the goods/service to me as soon as possible.
Thank you.
What happens if you refuse to pay an invoice?
If you refuse to pay the invoice, the client can take legal action against you to recover the debt.
But, before they do this, you will receive a statutory demand letter for the outstanding amount. After you receive this demand, you will have approximately 21 days to either pay the debt or come up with an agreement to pay. If you ignore the 21 days given, the client can apply to bankrupt you or close your company.
Statutory demand letters: 
Form SD1: Demand immediate payment of a debt from a limited company ('statutory demand')
Form SD2R: Statutory Demand under Section 268(1)(a) of the Insolvency Act 1986. Debt for Liquidated Sum Payable Immediately
Form SD3: Statutory demand under Section 268(1)(a) of the Insolvency Act 1986. Debt payable at a future date
Form SD4: Statutory demand under section 268(1)(a) of the Insolvency Act 1986. Debt for the liquidated sum payable immediately following a judgment or order of the court
Also, if you still refuse to pay, you may be subjected to the following;
If the amount owed is under £10,000, the case will be submitted to the small claims court.
If the invoice is more than £10,000, your case will be submitted to Money Claim Online. This is an internet-based HM Courts & Tribunals designed to solve debt collections without necessarily going through the courts. [1]
The client can also choose to take you to a debt collections agency that will handle the matter on their behalf. This agency usually collects debts for a fee.
What should I do if a client refuses to pay an invoice?
It's always best to try and resolve issues amicably. If the client refuses to pay an invoice, start by arranging a meeting with them, and asking them to explain why they are dissatisfied with the work and why the invoice is still unpaid.
If their expectations are reasonable, then maybe you could try to meet their needs, but if you still cannot reach an agreement, and the client's demands are way too high, there are many other ways of trying to resolve this, which includes;
Mediation – This is a process that tries to resolve conflicts without taking things to court. There is usually an impartial person that acts as a referee in the dispute, and they aim to try and reach a resolution that works for all parties concerned.
A statutory demand is issued when you wish to place a demand on the client to pay the invoice.
Legal Action – When the client has completely refused to pay the invoice, you should consider taking them to court.
For these reasons, it's never a good idea to refuse to pay an invoice. The clients have the law on their side, and there are plenty of ways to try and get their money. The process of not paying is way too long and time-consuming and could cost you a lot of money.
Can a client refuse to pay a late invoice payment fee?
One of the options available to guard against late invoice payments is late payment fees. You can charge this to your client if they are constantly late in paying their invoices.
Now, you must ensure that this rule is included in the original contract between you and your client to charge them when they do not pay on time.
If the client refuses to pay this amount, you are allowed to take them to the small claims court and demand that they pay. The law, however, limits the amount you can sue and charge your client.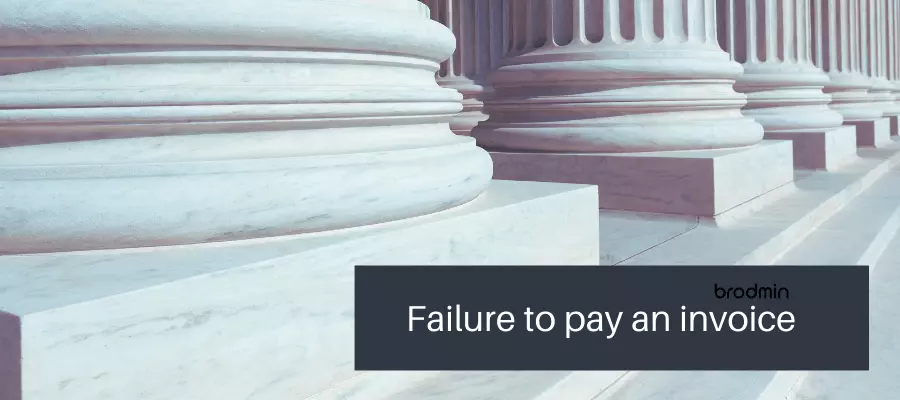 What if a client objects to paying the late interest fee?
Despite the law being in place, sometimes customers may be unwilling to pay the interest on the late payment.
They, however, cannot opt-out of paying, and if the interest is disputed, here's what you can do;
Make it very clear that you prefer agreeing on the debt and that it must be paid. If you cannot agree with the client, you must follow the different legal procedures of claiming payment.
You could apply pressure by placing the customer on a stop-list, which means that you would stop any more sales with the specific customer until they pay the debt.
Consider passing or selling the debt over to a third party. – This is very common, especially in long-overdue debts. Many recovery companies are willing to buy your debts at a lower cost and sell them at value, thereby making a little profit.
The purchaser of the debt may use the courts to get the payment from the client with interest.
When you sell or transfer the debt, ensure that you inform your client in writing that you have done this.
How do I sue someone for not paying an invoice?
If the client still doesn't pay the amount they owe, it's probably time to take legal action and sue for not paying invoices. But, the good news is that; small businesses do not need to get a lawyer at this time.
The UK law allows anyone who is owed money to make a statutory demand for it, but this must be done before the debt exceeds six months, and it must be done in person.
Once the client is served with a statutory demand, they are required to either pay the overdue amount in the next 21 days or agree on how the money will be paid.
What happens next?
Now, if the 21 days lapse and payment has still not been made, you have two options;
If the amount you are owed is less than £750, you are allowed to apply to wind up or bankrupt their company, although this has to happen within the next four months of the statutory demand.
If the amount is more than £5,000, you can submit a petition for bankruptcy with the courts.
It is wise, at this point, to bring in a third party to handle the issue for you, such as a third-party mediator, a solicitor, or another advisor.
Documentation Needed For Taking Legal Action
The first thing you must ensure is proof that you tried to resolve the problem before taking any legal action. If you have not done this, then the court may go against you.
It would be best if you had the following; Letters, emails, and any other recordings showing that you did try to either use mediation or negotiate with the client.
You can write the initial letter on your own, but it is always advisable to have your solicitor do it for you, as the client is most likely to respect that more.
The solicitor will also ensure that they include all of the information required for your specific situation for the court if you decide to go to court after all.
How to Make the Money Claim
You can make a claim in court for the amount of money you are owed. This is often referred to as "a small claim" or "a money claim."
This amount can include any interest you have charged the client or compensation you are owed.
The customer may pay as soon as they receive your claim to avoid getting a court order against them. If they do, it will not cost you any more than the original fee, and you will not have to go to court.
If the money owed is a lot, then the situation may become complicated, and you are less likely to receive payment immediately. The claim may go to court if the customer continues to disagree with your claim. This is pretty expensive in the long run.
Find out how to make a claim and how much it costs in:
Conclusion
Therefore, in conclusion, you cannot refuse to pay an invoice, whether late or old.
Invoices are legally binding contracts, especially for companies that pay VAT.
If there are any disagreements to invoice payments, try and resolve them amicably as it is less expensive than hiring lawyers and going the legal way.
Also, ensure that you raise an invoice on time and that all of the information on the invoice is correct and accurate.
Take it through several checks before submitting it to the client because a small mistake on the invoice will cause delays in payments or even non-payment.