Disclaimer – please read! 
The Following Does Not Constitute Legal Advice. The content of this article relates only to the courts in England & Wales. Other countries and jurisdictions have other rules. We recommend that appropriate legal advice should be taken from a qualified solicitor before taking or refraining from taking any action.
How do I sue someone for not paying an invoice?
You can sue someone for not paying an invoice by filing the case in a small claims court.
In a small claims court, you file the amount you're owed.
If the client owes you less than £10,000, you'll file under the civil money claims [1].
You can make money claims online for amounts between £10,000 and £100,000
If the client owes you more than £5,000, you can serve them a statutory payment demand. This is a formal document alerting them to pay the amount within 21 days.
You can contact the court and have the case filed on paper.
The court you choose depends on where you live:
In England and Wales: These regions have financial limits for claims in different courts.
Scotland: You can claim a value of up to £5,000. You can make the claim via the sheriff's court.
Northern Ireland: Claims for £3,000 can be done online at the courts and tribunal service website.
If the client disputes your claim, the court will offer a mediator to try and resolve the issue before proceeding to court [2].
If the client still disputes the claim, you can instruct the court to make a judgement.
Use the request for judgement form N225 if you made the claim for a fixed amount of cash [3].
Use the request for judgement form N227 if you made the claim for an unspecified amount of cash [4].
A court hearing is inevitable if:
The defendant claims that they don't owe you money.
The defendant disagrees with the sum you've quoted.
You disagree with how the client has offered to pay you.
The court may send you a questionnaire to get more information from you at a fee [5].
Aside from the small claims court, you can sue someone under a civil lawsuit. This approach is recommended if the case is complicated and the amount you seek exceeds the limits for a small claim.
Invoice dispute law UK
The Late Payment Act states that you're entitled to claim interest for late payment and compensation for debt recovery costs. [6]
There are different laws for dispute resolution depending on where you live in the UK. [7]
The court also offers Alternative Dispute Resolution (ADR) for invoice disputes. [8]
How long do you legally have to pay an invoice?
You have within 30 days to legally pay an invoice. If a client hasn't paid within 30 days you can either charge for late payment or issue a statutory demand [9].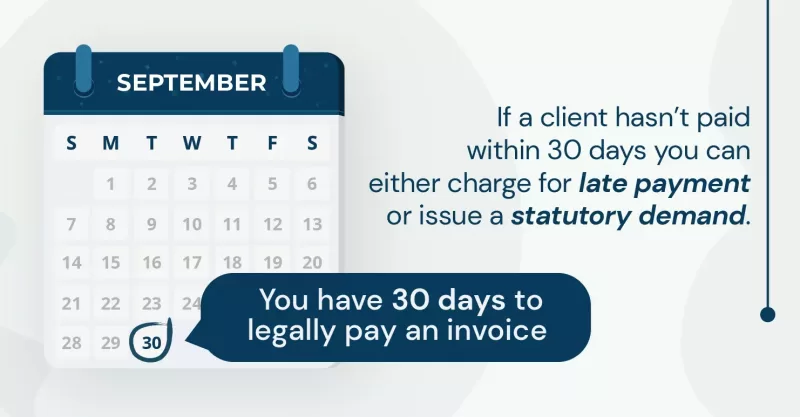 Is suing someone worth it?
Suing someone may be worth it or not depending on the claim.
If it's a small amount e.g., £10,000, and below, you're better off settling the matter outside the courts.
You can:
Hire a solicitor to threaten the client with a legal letter.
Negotiate for a compromise with the client.
You can hire a debt collection agency.
Use mediation to solve the issue.
It's worth it to sue someone if they owe you a huge sum and you have evidence to prove that you've tried to reach out to them.
You should have:
Email, letters, and other records that show you tried negotiation and other methods before proceeding to court.
Sent a letter to your client to warn them that you'll sue if they fail to pay.
Court cases are expensive and time-consuming. It could take months before the case is settled. Also, there's no guarantee that you'll win the case.
Suing someone is not worth it if the client is bankrupt. You may win the case, but the court cannot force them to pay. In that case, you'll have incurred costs for the court case.
How do I sue an unpaid invoice?
You can hire a lawyer to start the legal proceedings. The unpaid invoice issue will be forwarded to a judge who will rule on the matter.
If the client claims that they did not pay because you did not fulfill certain agreements, you'll have to prove it.
The judge will give a final ruling based on the facts of the case [10].
If you lose the case, the court may order you to pay for the client's court costs.
If you win, the court may order the customer to pay for the invoice and your court fees.
What happens if you sue someone, and they don't pay?
If you sue someone and they don't pay, you can send bailiffs to collect the money.
This will cost you more money. For example, in England and Wales, you'll have to pay about £242.
The process is different for:
The bailiffs can either:
Seize all their assets
Freeze the debtor's money or assets
Secure charges over their property so you receive the money owed from sale proceeds once the property is sold.
Should you settle or go to court?
It's better to settle because it's faster and less costly.
On average, a settlement could take three to six months to complete. A court case on the other hand would take twice as much time.
An attorney can help you decide whether it's worth it or not to go to court. The court is a better option if:
You stand a chance to receive more compensation.
It's worth your time regardless of the court fees and additional lawyer fees.
Based on the advice of your lawyer, you stand a higher chance of winning.
How much money does it cost to sue?
Expenses pile up from the moment you seek legal advice. Some lawyers may offer a free consultation. But if you opt to proceed with the legal process, you'll incur costs.
According to disputeregister.org, filing a business dispute costs £15 [14].
Proceeding to a small claims court could cost you £60 to 5% of the claim
You must pay a court fee in the small claims cost. This fee varies depending on the claim amount
The Centre for Policy Studies shows that top city law firms charge more than £1,000 an hour for their services. This figure can rise to as high as £5,000 [15].
Lengthy trials mean more costs and time spent in case preparation and other ancillary tasks.
Bottom line:
A dispute over an invoice is best handled outside the courts. You can utilize alternative dispute resolution solutions. Also, you should consider the next steps that involve protecting your business from invoice disputes.
Should you choose to proceed to sue, ensure that it's worth it and you have sufficient evidence to help you win the case.