30 days. An Invoice Payment is considered late after 30 days, unless you already have an agreement with the creditor, but if you do not pay by the agreed date, the law says that after 30 days, the payment is late.
However, it is 30 days for the public authorities but 60 for business transactions. Whichever agreement you have with the creditor, ensure that it is fair to both of you.
Is a payment late if paid on the due date?
No. But, the payment must be made by 5 p.m. on the specified due date. This is regardless of whether it falls on a weekend or a holiday. Otherwise, it shall be deemed late and will be entitled to all the late payment penalties.
Although some creditors tend to have a much later cut-off time like 8 p.m., you must enquire about this beforehand and not assume.
How long are late payments held?
6 Years. There are usually set time frames on how long the negative information shall remain on your file. The time frames will vary as per the nature of the negative information, but it is usually no more than six years.
After six years, they are removed from your file, but there is usually an exception with bankruptcy orders. Here's a look at different debts and how long they can last on your report;
Late payments such as Invoices – six years.
Bankruptcy – between six and 15 years.
Debt relief orders – six years.
County court judgments – six years.
Defaulted debts – six years.
Searches – one year
Individual Voluntary Arrangements – six years.
How will late payments affect me?
Late payments will adversely affect your credit and impact future financial dealings, if the creditor sends your information to the above-listed websites. Any future potential creditor is likely to see your payment history and pre-judge you even before meeting you.
Additionally, late payments could result in the following consequences;
What can I do in case I am late with my payments?
What can you do about late payments is bring your account current. Slipping up can happen to the best of us. Again, with the current world status – The pandemic, most businesses have suffered greatly, and missing a payment or two is pretty standard.
If you find yourself late and 30 days have not elapsed yet, then you are still safe and in a great position to rectify the situation. However, if you are more than 30 days late, you must bring your account current as soon as possible. Being 30 days late is pretty bad, although not as bad as 60 days.
The sooner you catch this up, the better for you. With a current account, you could negotiate with your creditor by writing a goodwill letter, asking them to give you time to pay up and to remove a negative mark on your report.
Will I be charged a late payment fee?
Maybe. Although the late payment will not be considered late until 30 days have expired, you may still have to face some consequences of the late payment. This could include being charged a late payment fee or a percentage interest of the amount due.
Most creditors will charge interest on the overdue payments or penalty fees. It can be pretty expensive. Some of them are good enough to give you a grace period, but this starts when the payment is due, and if you can pay within this time, then you don't have to pay any late fees.
Others usually tier the late fees per how much you owe them, but there are legal restrictions on the exact amount you have to pay. Typically, any charges that exceed £12 are considered unfair.
Is it possible to avoid late payments?
Yes. The best way to go about payments is to make them on time. It is better to prevent a problem than to solve one. Here are some tips that can help you with this;
Always check the "due dates" on the invoices and confirm any grace period offered by the creditor.
Ensure to have a clue as to how long the payments will take before reaching the lender. This is an avoidable problem. Some payment methods may take longer than expected.
Make use of automated payment options – most banks will offer direct debits and other types of payment options, plus reminders on email or text of your payment days.
Include the payment in your budget to make it easy to remember the payment when you receive money.
Set some rainy-day money to cover forgotten and unexpected expenses.
Take out Payment Protection Insurance, which covers your expenses if you cannot meet your obligations, such as if you become ill or lose your job.
Could a supplier report me for not paying on time?
Yes. In the UK, creditors are allowed to send information of unpaid invoices to the Credit Reference Agencies – CRAs, although it doesn't always happen.
A company must weigh plenty of options before taking this step. This is because their reputation is always at risk whenever they are at loggerheads with their clients.
Additionally, the UK government has a website for these kinds of disputes – The Small Business Commissioner. This is specifically designed for SMEs to check on invoices and enforce payment procedures.
Now, when your information is sent to the CRAs, the agencies will use different status codes to check whether your payment is late or current. An invoice that is 29 days late does not have a code, but one that is at least 30 days old will have a code.
The creditors will send this information at different times, and you can never know precisely when the late invoice status will appear on your report.
Where could a client report my late payments?
Collections Department. But additionally, there are many different websites where late invoices are reported in the UK, which includes the following;
This website was designed in 1997 by the UK Government who partnered with various business organizations that were offering SME services. Its primary function is to help UK businesses get paid for their services.
If you have an overdue invoice, then you are likely to find your name on their website. Most businesses have already registered on this site, and they send information about unpaid invoices, so the others can see them before getting into business with you.
The Business Disputes Register
This is yet another website that seeks to resolve any conflicts between businesses, including unpaid invoices, which means that you may be reported on the site if you haven't paid your invoice.
They allow businesses to raise disputes which in the end help erring customers pay up their invoices. Once you pay, the information can be removed, making your record clean.
This website helps businesses report their experiences on unpaid invoices. They have an online directory that is very simple to use, and any creditor can post your name to show that you did not pay their invoice.
All the information is made public, which means that anyone can see your information and payment history with a said creditor.
The Small Business Commissioner. This is the most common place where the client will seek help first; after all attempts to reach you fail. If you disagree, you shall find your name on that website.
Additionally, they could also report you to;
Register of Outstanding Invoices – ROSI
This is a body that the UK government set up to endorse legislation, policies, and acts of parliament as pertains to the payment of invoices, commercial contracts, and other financial transactions.
Checklate (*Update: 05/08/2021 – checklate.co.uk seems to be offline for good) 
Checklate was once designed to help SMEs who wished to investigate the financial history of potential clients, including their payment habits. The site used to collect information, such as customer reviews from other companies and their personal data and displays them for all to see.
The Prompt Payment Directory  (*Update: 05/08/2021 – thepromptpaymentdirectory.co.uk closed for good) 
The Prompt Payment Directory is another site that has permanently closed its doors in 2021.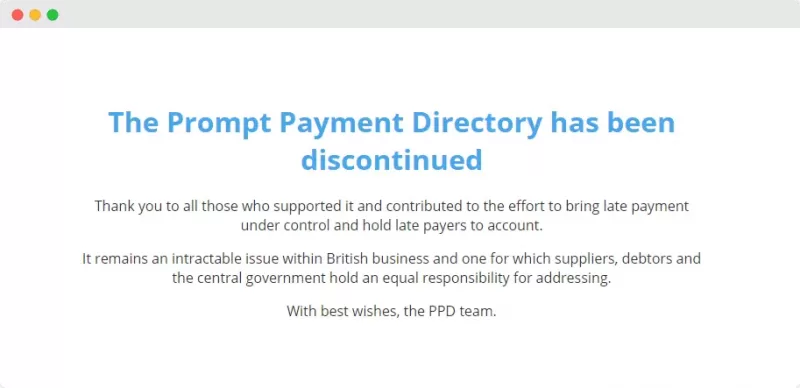 Conclusion
As you can see, it's never a good idea to delay your invoice payments. Unless you have a written agreement with your supplier that you shall pay the invoice a bit late, always endeavour to do this on time, as it shall save your business plenty of time and money.
The Late Payment's Act protects businesses, and if the creditor shows proof that you did not honour the agreement, then the law is on their side, and they can sue you for breach of contract.
Keep all of your Invoice payments updated using an Automated Invoice Processing System to ensure that you do not fall into a mess that will cost you too much to get out of. All the best!