According to a report on UK freelancer payments published by Startups, almost half of all freelancers in the country have considered quitting the lifestyle due to struggles with late payments from clients.
Around 46% of freelancers and sole traders are stressed about not having enough money to live on, with most owed an average of £5,431 in late bills.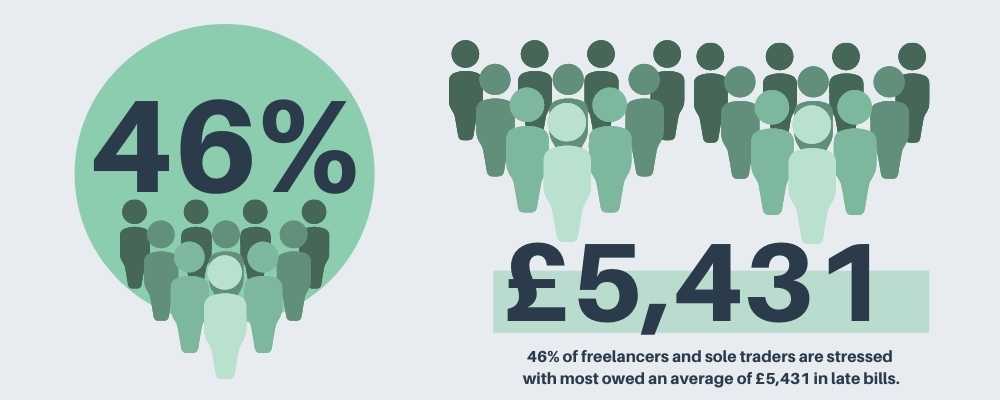 Unfortunately, this problem is only made worse by the fact that a large number of freelancers feel awkward and uncomfortable chasing after overdue payments; 57% of respondents worry that their clients may not use their services again if chased for payment.
Late-paying clients are a major problem for most freelancers, as they do harm to you and your business alike.
While you might be able to overlook a few delayed invoices, it gets harder to settle your own bills and manage your cash flow when those invoices start to pile up.
Plus, aside from giving you one more thing to worry about, those late payments can lose value over time.
AskMoney's article on the time value of money explains that it's always more profitable to get money now than accept a promise for the same amount in the future.
The sooner you get money, the more it's worth; otherwise, there is more time for prices to inflate, which quite literally drops the value of the money.
It's for these reasons though that follow-ups are so crucial.
Discomfort aside, your clients are supposed to pay you on time once you've completed your service.
And if reminder emails don't work, there's always a more direct means of communication: phone calls, which are also more personal and more difficult to ignore.
To help with any discomfort or awkwardness though, in this article we'll discuss four tips for how to make a successful follow-up call over late payments.
Decide on the right time to follow up
Ideally, you should send a number of short emails before and after the due date to remind your client about your fees, with a copy of the invoice attached each time.
You should call when:
You don't get a satisfactory response: You've already sent your client three emails, but they have never explained why payment is late, nor given you a date for when you can expect your check.

You haven't received a response at all: If you've sent the outstanding invoice three times via email and have not heard back from your client, you'll need to get on the phone, as some people are inclined to ignore emails.
In these instances, calling is good because you eliminate possibilities like emails going to spam, or your contact person simply not being around. You also don't want to follow up too late, as this gives the impression that you're not completely on top of things.
Get your information in order
To avoid any confusion, make sure your information is correct and up to date. The last thing you want is to make a phone call for an invoice that has already been paid or to call only to realize you don't have the necessary information at the ready.
Be sure to have relevant details on hand, such as:
Invoice reference number

Invoice issue date

What project the invoice is for

Main contact person

Total accounts receivable and anything else owed

Times and dates of previous email reminders

Notes of communications so far
As you move through the follow-up process, be sure to keep copies of emails, dates, and summaries of phone calls to support your cause.
Prepare your call script
All too often, we opt to send emails or text messages because we believe phone calls are more awkward.
However, research on phone communications from the University of Texas actually revealed the opposite just last year.
Phone calls are more likely to produce feelings of connectedness because they bring about a deeper interaction with someone.
Again, we understand that many people dislike making phone calls because it can be uncomfortable.
But all these means is that it's important to prepare yourself mentally and keep your goals in mind.
One thing you can do to this end is draft a script for your call. Introduce yourself and the project you worked on, then mention the email address used in your communications.
You can say something like, "Now that we're on a call, it would be great to discuss payment for this project." Mention the amount owed and its original due date.
From there, you can ask if there were any issues in making the payment and check to see if there's anything you can do to help facilitate it – perhaps by offering alternative payment channels, for example.
Stay calm and polite throughout the process
In our post on "Why Freelancers Should Issue Late Fees to Clients", we considered common reasons freelancers get paid late, like clients being busy or forgetful.
You may have been communicating with the wrong person, or maybe your client never saw the invoice. Of course, it is also possible that your client is ignoring you deliberately, but you need to give them the benefit of the doubt.
There may have been a temporary setback, so you should work with your client to smooth things over.
Avoid harsh words, threats, accusations, or personal attacks that will only serve to alienate the client further. Instead, stay polite and kind, but be direct, precise, and persistent.
Emphasise how you look forward to collaborating again in the future (especially since freelancing requires you to maintain these professional relationships). Once your client finally pays, thank them and adjust your billing strategy accordingly.
Undoubtedly, the process can be challenging to manage.
Through these tactics, you'll have the best chance of successfully chasing after late payments and securing the money you're rightfully owed.