Client due diligence is important.
Financial institutions such as banks use due diligence to protect themselves and their clients from money laundering risk.
But that's not what we're talking about today.
This simplified client due diligence guide will show you the importance of doing your research when taking on a new client or supplier for your business – and we show you how you can go about it.
Taking on a new client is good for business, but it also poses some risk.
When you're unsure of a client and their ability to pay their invoices, the new business becomes a gamble.
You have every right in such a situation to do your due diligence for new clients or suppliers.
What is simplified due diligence?
Simplified client due diligence, in layman terms, is research into the client or supplier before you start working with them.
This isn't limited just to credit checks- you want to make sure the people you're working with are reliable. I know, for a lot of businesses, this isn't usually the first step.
As business owners, we know getting new clients is hard, and more often than not, we rarely do background checks on potential clients.
We're just eager to get the new business and start working. And this is where the biggest mistake occurs.
If your new client turns out to be more trouble than help, you may regret skipping this very crucial step. Doing your due diligence isn't just a reassurance, it is your guarantee for less risk from a new client.
You want to make sure they make for a good fit with your company, and that you both benefit from the partnership.
That's where doing your due diligence plays a key role.
When would simplified due diligence be used?
Simplified due diligence should be used whenever you're about to take on a potential new client or supplier, you'll want to make sure they are who they say.
However, simplified client due diligence does take some time, so this is not something that should be a last-minute decision.
You will want to strategize an approach that won't hold up a deal while you look into potential new business.
Of course, how you go about the process depends on each unique situation, but I suggest a general rule that you invest in more thorough research as you allocate more resources to a client.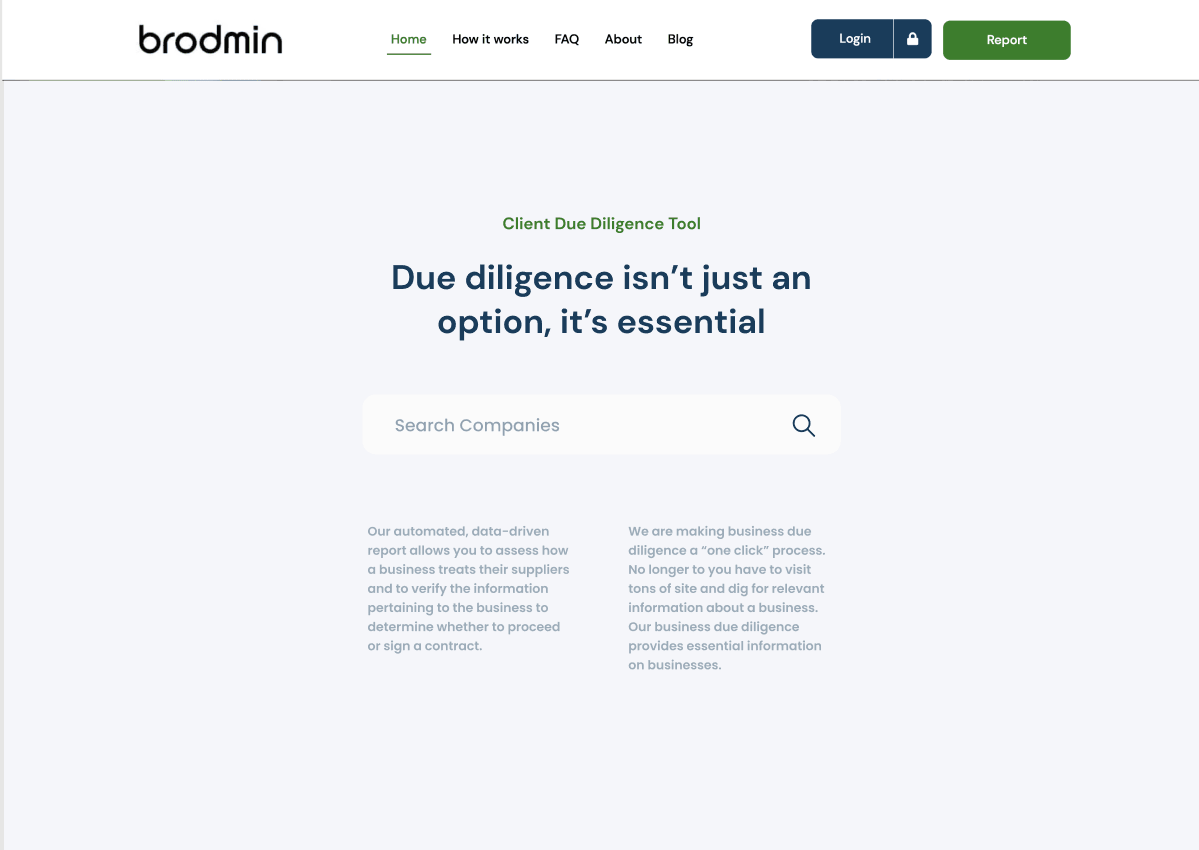 [image: brodmin's simplified due diligence tool]
As you move through the stages of your partnership, you're going to want to conduct more thorough investigations.
For example, for an initial sit-down with a potential new client or supplier, I may just run a basic check online, skim their website and get a feel for their person before the initial meeting, just to know what is what.
But once a deal is finalized, and a contract is on the table, or even a verbal agreement already made, that is when I recommend you start investing more in doing your due diligence before you take that final step.
There are many things to look out for when conducting simplified client due diligence, and I've discussed them in detail below.
But the three major factors you should be focusing on are; firstly, determining whether the client's identity is verifiable.
Secondly, making sure the person you're dealing with has the authority to act on the company's behalf.
And finally, verifying the legal status of the company and confirming that they are doing actual business. These three factors should protect you and your company to a great extent when entering new deals.
Who qualifies for simplified due diligence?
Every new prospect that might become a client or supplier qualifies for a simplified due diligence check. Online checks include business verification, reviews, and checks for late invoice payments.
So, anytime you take on a new client, think about carrying out a simplified client due diligence.
Throughout the negotiations process, especially if you're looking at a longer-term contract, you're going to want to protect yourself as much as possible against risk.
Too many times do we take on clients that would end up not paying us for several months after the initial 30-day term. It often leaves us with no cash flow for up to 5-6 months.
Despite this, the client expects us to keep working with them.
Due to poor decision-making, we also cannot afford to say no as that would risk losing them.
Even when you take on a new supplier, in fact, with any new business dealings, do your due diligence before you sign any agreements.
I believe an additional protective step is to periodically keep tabs on the company, especially with long-term contracts.
It will afford you some peace of mind and assure you everything is on track and above board.
Why should you perform simplified due diligence on clients?
The main reason behind a simplified client due diligence is simple: it's pure self-interest.
As a business owner your priority is always protecting your company. You want to make sure you work with people with a verifiable identity.
The biggest risk you run when you forego due diligence is that you can end up not getting paid. I personally know someone who hasn't received payment for over 9 months, with invoices totalling over £100,000. Worse still, when pursuing that client, they changed suppliers without notice, and still won't pay.
When you take on a new client or supplier, you want to make sure they can work with your company culture and dynamics.
Naturally, you'll want a long-term, profitable partnership for both parties. The first step in that direction is doing your homework on who you're going to be working with.
Here's why you should be performing simplified due diligence on clients:
How does simplified client due diligence work?
A simplified client due diligence works by performing thorough research into a potential new client or supplier. You can use online tools or do it manually using a checklist.
How you conduct due diligence depends on how thorough you want to be and what sort of information you're looking for.
Ideally, you should do a deep dive into the potential client's history to assure yourself of their trustworthiness.
Here are some factors you should investigate when conduction simplified client due diligence:
Investigate online forums and communities.
Online forums are a great place to start when you're looking into a company.
Even the company website itself can give a lot of information about how they operate and what to expect.
Online groups and forums generate discussions between businesses and customers and can give you an idea of how the company operates and stands, and its reputation among the business community and customers.
Verify testimonials.
Testimonials speak a great deal about what a company is like, and what its culture and values represent.
Positive testimonials from clients or other companies they have collaborated with are a good sign and can be taken as a recommendation in favour of the company.
However, I would suggest you verify these testimonials rather than taking them at their face value. Track down who they've come from, if they're legitimate, and if they hold any substance before relying on them.
Leverage professional social networks.
Professional social networking sites like LinkedIn combine a lot of your other sources of information into one. You can use such sites to gather information about a company and even the representatives with whom you are dealing.
They are also a great source for checking testimonials, and even helping in tracking where they come from.
Check invoice payment history.
One of the major aspects of a simplified client due diligence is research into invoice payments. This is a big concern when you take on a new client, they might delay payment, not pay in full, or withhold payment altogether.
You can use various sources of information in this regard, such as reviews and testimonials that can shed light on the company's financial habits.
This process, however, is made much easier with the use of automated tools.
brodmin's Due Diligence Report Wizard is a one-click process that scours the internet looking for information on how a company treats and works with its suppliers.
The tool verifies business information, checks for late invoice payment reports against the company provides a summary of reviews on the company and monitors it for changes. This automatically sets up an alert that shows whenever the company name is mentioned online.
As online research methods go, this tool cuts out your work for you. The basic version of the tool is completely free to use too, so you have no reason not to do your due diligence with new clients.
There are other, location-based tools you can use to help in the research process. Online methods are available for companies located in the UK, USA, Australia, UAE and New Zealand. You can look up local resources for your area, or try the Open Corporates global database.
Business credit check.
The creditworthiness of a business includes their repayment history and is directly linked with their ability to pay you for your work.
Always check the credit score of the company you are about to enter into a partnership with. Low credit scores are a big red flag, and you might want to avoid companies with poor credit ratings.
Talk to ex-employees.
If you want the inside scoop on what a company is like, there's no better source than its employees. If you can reach out to ex-employees of the company in question, you can find out just what kind of people you are dealing with directly.
Sites like Glassdoor allow current and ex-employees to post anonymous reviews of their employers. You can use this site for your research. Of course, as it is an anonymous review site, verify the information you gather here with other sources.
Talk to current or former suppliers.
Other or previous suppliers of the client are a good source of insight. Talk to them about your client, their payment practices and how they carry out their dealings.
This is some of the most reliable information you can get, and if the suppliers have good things to say about the client, you can move ahead with your deal.
Look for customer reviews.
The best way to know a company is to find out what its customers think about it. There are many sites where customer reviews can be found, such as Facebook, Google My Business and Yelp. Don't be discouraged by one or two negative reviews. Every company, no matter how good they are, will always have a few customers they simply cannot satisfy.
While too many bad reviews are an obvious red flag to look out for, also pay attention to too many positive reviews. There is a possibility that a company with 100% positive reviews may have paid for the reviews. Of course, it could also mean they're just that good.
Verify references.
The references that a company may provide are a good way of checking up on them for simplified client due diligence. But I would recommend you also verify these references, and make sure they come from reliable resources instead of just taking them for their word.
It's a simple, added precaution that may very well save you from a lot of trouble in the future. If you are unable to verify the reference, that is also a major red flag.
Trace any history of bankruptcy.
Check if the company you're about to enter into a contract with has ever filed for bankruptcy.
It might not mean much- but is still worth checking- if the bankruptcy happened well in the past. However, if the company recently filed for bankruptcy, there's a good chance they will be unable to pay you for the services they've contracted you.
Check involvement in litigation or legal proceedings.
A good idea when conducting a simplified client due diligence is to look into any legal proceedings the potential client in question is involved in.
Especially where these proceedings involve other clients or partners, it's not just an indicator of poor management and internal conflicts. It also means the company will have other priorities, and your payments may well be delayed due to the legal actions they are involved in.
Look for any liens, judgments, injunctions or lawsuits against the company. The website of the court where these are filed may also have publicly available records. You're going to want to check for a history of non-payment behind the proceedings, or any other activity that would delay payment for you.
Check corporate status and tax filings.
A company that is late on its tax filings may raise some alarm, especially if this is a regular occurrence. Always make sure to check their corporate status as well. A status of "forfeit" or "deferred" may be a major warning sign.
Look for suspicious activities.
Past business activity can also give you a fairly good idea of who you're dealing with.
The sort of activities a company has been involved in might stand out if they don't fit with the business. If they have been recently involved in successor corporations, complex stock dealings or any other activity that does not fit the company size or type, it warrants a closer look.
Check if who they are - corresponds to what you find.
As you do your research and gather information about the company, check to see if your findings correspond to what the company says about itself. This includes what they display on their websites or the information they have passed on to you.
Of course, you should look out for major discrepancies, but I would suggest you also keep your eyes peeled for smaller inconsistencies. They may not mean much on their own, but together they can be a major red flag.
Stay vigilant with Google Alerts, Mention and Talkwalker Alerts.
A final step you can take is to set up an alert that will automatically notify you anytime the company in question is mentioned online.
You can do this using the Brodmin Due Diligence Report Wizard.
Other tools, such as Google Alerts, Mention and Talkwalker Alerts also let you monitor the web for any mentions of the names you specify.
This will help you access and review relevant information much faster than manually searching for it on the web.
What are the different types of due diligence?
Due diligence can refer to many aspects of a business and can depend on what sort of information is being researched and for what purpose. Some of these include – Simplified DD, Administrative DD, Financial DD, Asset DD, Human Resources DD, Environmental DD, Taxes DD, Intellectual Property DD, Legal DD, Customer DD, Acquisition and Merger DD.
Due diligence around the world
The concept of "buyer beware" isn't new, it's been around since the Roman ages.
The concept of Customer Due Diligence (CDD) in terms of money-laundering risk and "Know your Customer" was first applied in the U. S. Patriot Act in 2001.
In its essence, it involves identifying and understanding customer activities and assessing the risk of money laundering. Today, over 92 countries around the world use some form of CDD.
China
There's a three-tiered CDD implemented in China that comes with more stringent checks on account based on the upper limit set on them. On accounts with higher limits, more in-depth checks are required before you can open an account.
South Africa
As part of the Financial Action task Force (FATF), South Africa follows CDD checking procedures. They even implement Enhanced Due Diligence (EDD), which is mandatory for local and foreign PEPs.
Canada
With regards to anti-money laundering laws, Canada has updated its Proceeds of Crime (Money Laundering) and Terrorist Financing Act (PCMLTFA). Authentic, valid and current documentation is accepted as a valid ID, such as government-issued ID and dual-process methods.
Europe
The Payment Service Directive for European countries calls for strict customer authentication. So two-factor authentication is the minimum standard here, and companies who don't comply with this requirement become responsible for any losses themselves. The 2016 amendment to the due diligence requirements made simplified due diligence inapplicable in most circumstances.
The U.S.
Financial institutions are now required to collect and report ownership information, with four important factors relating to due diligence. These include customer identification, ownership verification, developing customer risk profiles, and ongoing monitoring.
Simplified client due diligence checklist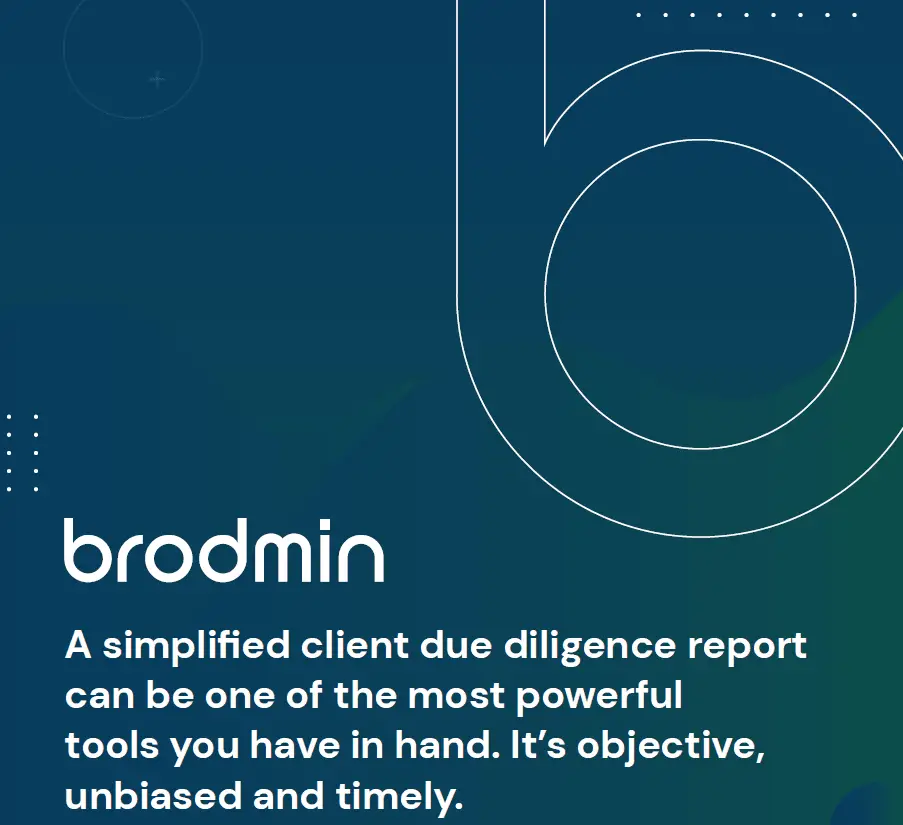 Looking into potential new clients or deals is not a one-step process.
The best way to protect yourself and limit the risk is to maintain a more stringent research protocol that can at least help you identify warning signs.
Even when these appear after a contract is signed, it can help you prepare for the next step. You can download the simplified client due diligence checklist and refer to it as you conduct your research into new clients and suppliers.
These days doing your due diligence isn't just an option, it's essential.
Thankfully, with internet resources, the process is much easier with a lot less hassle. Simplified client due diligence is one guarantee to save yourself from future risk and protect your company.